In a similar manner to bonnets, are available as either single skinned or double skinned.
Single Skinned.
Single skinned is the outer shell, and is the most popular type. This is intended as a quick release, motorsport styled item to be fixed by bonnet pins. Hinges can be bolted on but for this we recommend the double skinned one since the extra strength means they are far less likely to have problems later.
Double Skinned.
Double skinned has an inner liner similar to that fitted to the metal bootlids most Minis already have. The standard fixings can be transferred from your old metal bootlid, and it is safe to fit the standard hinges. Of course double skinned bootlids can also be fitted with pins or straps if required. The extra skin makes them far less likely to flex.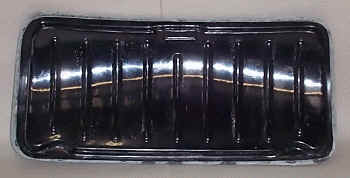 This is the inner skin used on all Mini Bootlids.
Materials.
All are available as standard in Fibreglass, Carbon Fibre, Visible weave Carbon Fibre, Kevlar, or Carbon/Kevlar mix. Fibreglass is recommended for road use, although some people do fit the visible weave Carbon. The other options are generally used for motorsport.