Products under development for New Generation MINI - please ask
IN STOCK AT TIME OF WRITING - PHONE FOR AVAILABILITY
We hear stories every day about competitors "developing" turbo kits for the MINI. Even now we still hear the same stories - our kits have almost 7 years on the road - when you have that sort of reliability record we might pay attention!! We have never blown an engine in all that time.
Please be assured that whilst the world is full of bull**** all conversions will come with a rolling road printout from local reliable test facilities. It is true that figures vary from car to car (and rolling road to rolling road) but we will not quote fantasy figures as some companies are happy to do. Your before and after printouts tell the truth as by and large they negate such variations.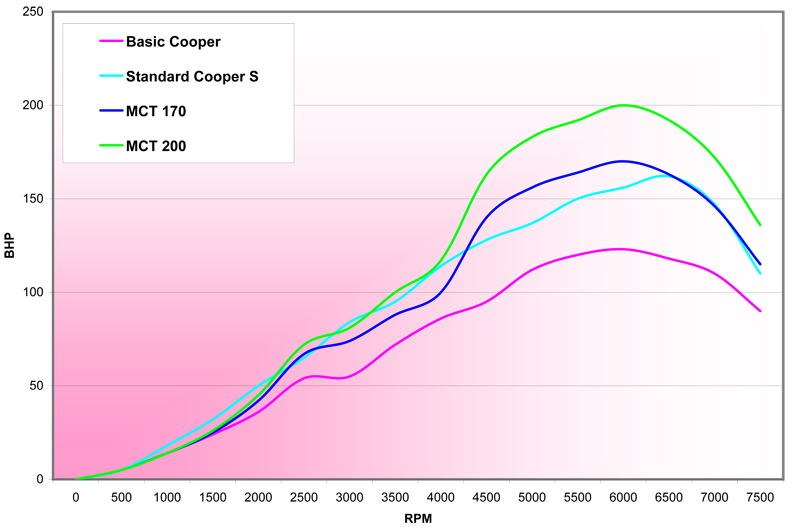 We offer low boost Turbo conversions for the MINI One and Cooper which are designed to bring them up to Cooper S (and more) spec. they are fun to drive, pull very well even from low revs, and meet emissions requirements for your MOT and also have great fuel economy levels. Essentially the engine drives like a 2.2 instead of a 1.6! Just what was needed from Day One.
The kits are a realistic DIY fitting proposition, and come in two levels. The first is what we term MCT170, and the second MCT200. The numbers relate roughly to the sort of power we would expect from most engines. This represents a substantial increase upon standard.
We also offer high boost conversions for the Cooper S which are known as the MCT300 Slipstream and MCT400 Slipstream respectively. Other companies call these Twurbo or Twin Charger conversions. It should be noted that many competitors products do not seem fully developed, and say the Turbos "could develop" or have the "potential" or "can flow" for 400 bhp - watch for this as some kits we have seen make no mention of any fuelling or head work - you cannot get a 1.6 Litre engine to 400 bhp without headwork, its very hard to get to 300 bhp! We use a Turbo with flow potential of over 500bhp on these conversions so what ever mods you make you won't be needing to change the Turbo.
During the development cycle we have built our own chargecooler systems for both Turbo and Supercharged MINI's (and indeed you can fit both systems on the Twurbo Twin Charger or Slipstream systems)
*Power Figures. It is very difficult to quote actual power figures for your vehicle, as the actual output varies depending upon many factors, including the actual specification and condition of your engine, altitude, temperature, humidity, vehicle equipment levels, and numerous other factors. Those figures quoted are typical and are based upon our own experience of the kits listed above. They are not guaranteed on any particular vehicle.
**MINI One must be remapped to MINI Cooper spec before conversion to reach full potential.